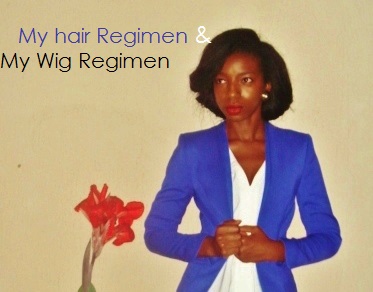 There are two regimens that I use to  minimise damage, prevent breakage and keep my hair healthy and long.  These are my Hair Regimen and my Wig Regimen.
My Hair Regimen
I relax my hair every 24 to 27 weeks.  After relaxing my hair, I wear it out for about 8 weeks.  During those weeks I follow the hair regimen below.
Shampoo every two ( wash hair in 10 calabar braids)
Deep condition with heat for 30minutes after shampooing (moisture and protein mixed together for every week)
Use leave in conditioners after deep conditioning
Air dry after every wash ( air dry in sections when hair has a lot of new growth)
Moisturise and seal daily
Wear protective styles 90% of the time
Sleep with hair covered with a satin scarf every night
Comb on my wash days only which is once a week.  Rather than combing daily, I use my fingers to detangle and remove knots 3/4 times a week

My Wig Regimen
This is the regimen I created and followed for the first three years of my hair journey.
At that time I followed this regimen 90% of the time and  hardly ever wore my hair out.  I was deliberately using wigs grow my hair and it worked.
Currently, I follow this regimen from week 9 to week 20 post relaxer.
Hair kept in 16 calabar braids under Hair by Type 4 wigs.
Shampoo every 2 weeks
Deep condition with heat for 30 minutes  after washing (moisture and protein conditioners used)
Use leave in conditioners after deep conditioning (moisture and protein leave-ins used)
Air dry after every wash
Put my hair back in 16 calabar braids ( which I keep for 2 weeks)
During the 3 weeks when my hair is in calabar under my wig I do the following
Moisturise and seal the calabar braids lightly every morning ( mixture of cantu shea butter and S-curl)
Oil scalp once a week.
Remove wig and sleep with hair covered with a satin or silk scarf every night
 I keep my scalp clean by wiping it gently with baby wipes and very warm  water once a week.
My Staple Hair Products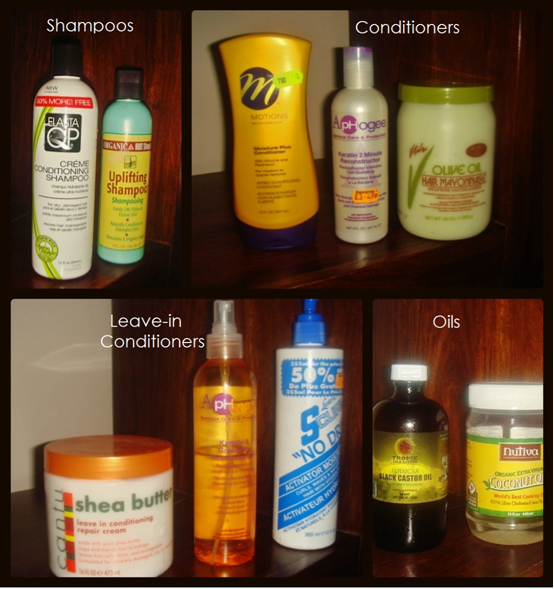 Shampoos
Cream of Nature Argan Oil  Sulfate free Shampoo
Organic Root Stimulator Uplifting shampoo ( used to clarify every 5/6 weeks)
Deep Conditioners
Aussie Miracle Moist Conditioner
Protein :-Vitale Olive Oil Hair Mayonnaise or Aphogee Keratin 2  Minute Reconstructor
I mix my moisture conditioner with my protein conditioner.  I add a teaspoon of olive oil and a teaspoon of coconut oil to the mix.
Leave-in Conditioning
Protein:- Cream of Nature Strenght and Shine Leave in conditioner
Cantu Shea Butter Leave in Conditioning cream
Moisture:- Luster's S-Curl No Drip Activator moisturiser
Daily Moisturizers
Mixture of Cantu Shea Butter Conditioning cream and Lusters S-curl
Oils/Sealants
Cold pressed grapeseed  oil (sealant)
Extra virgin olive oil (sealant)
Jamaican black castor oil (scalp oil)
Peppermint oil ( few drops added to castor oil)
Rosemary oil  ( few drops added to castor oil)
Extras
Lusters S-Curl (to mist the calabar braids when wearing my wigs)
Mane n Tail detangler
Relaxer Schedule
 I relax my hair every 5 to 6 months, twice or three times a year max.
I self relax at home ( mum or my sister help me with the back)
I don't relax my hair bone straight – I deliberately under process my hair ( this is called texlaxing)
Products – Organic Root Stimulator Olive Oil Crème Relaxer – No Base Formula – Normal Strength
I hope the you have found the information on this page helpful.
my regimen can be used as a template for you to build your own hair regimen, however ensure you adjust it if necessary to  suit your own hair and lifestyle.
For further advise on building your own hair regimen please see the Start Your Hair Journey Page
Learn | Change | Grow