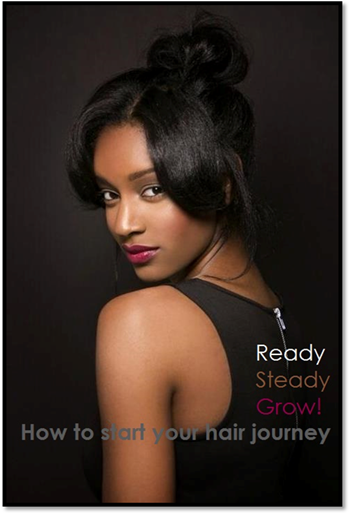 I noted on the Beginners Guide page that ladies who would like to start a hair journey should;
1) review their current hair care and styling habits,
2) stop or reduce  the bad practices which cause breakage and damage,
3) create a healthy hair regimen which allows their hair to thrive.

REVIEW YOUR CURRENT HAIR CARE HABITS
If you have read the information provided under How to Care for Black Hair , you should now be aware of the basic elements healthy hair care.
With this information, review what you currently do to your hair and how you treat it.
Consider what you currently do to your hair which may cause it to break or become damaged.
For example ask yourself how often you clean and deep condition your hair, is your hair getting the right dose of protein and moisture it needs?, are you losing hair because of your hair style? , etc .  After reviewing your current hair care habits, create your hair regimen through which you can introduce healthy hair care practices.
CREATE YOUR HAIR REGIMEN
Create a hair care regimen through which you start following healthy hair care practices such as regular cleansing, deep conditioning, protective styling, etc.
Try to create a realistic hair regimen which is simple and flexible.
You will have to tweak your regimen over time until it is perfect for you.  The same applies with hair products, you may have to try different brands of hair product until you find one which works well with your hair.
To create a hair regimen you will need
Products
A moisturising shampoo (preferably a sulphate free one)
A moisturising deep conditioner
A protein deep conditioner
Two leave-in conditioners ( one protein and one moisture)
A daily moisturiser
An extra virgin oil
Tools
A wide tooth comb
A satin scarf
Practices to be completed (some are not applicable when you are wearing hair extensions).
Daily
Moisturise and Seal (morning and night)
Wear a protective style ( little or no combing)
Cover hair with a satin scarf when sleeping
Weekly
Detangle
Pre-shampoo treatment
Shampoo / cowash
Deep condition
Apply leave in conditioners.
I hope the information provided on Hairducation, especially the contents of How to Care for Black Hair, has not overwhelmed you.
I hope it has encouraged you to adopt a healthy approach to hair care.
If you have decided to start a healthy hair journey, I wish you the best of luck and I am happy to help with questions should you have any.
Learn | Change| Grow
(*) I do not own the image used.