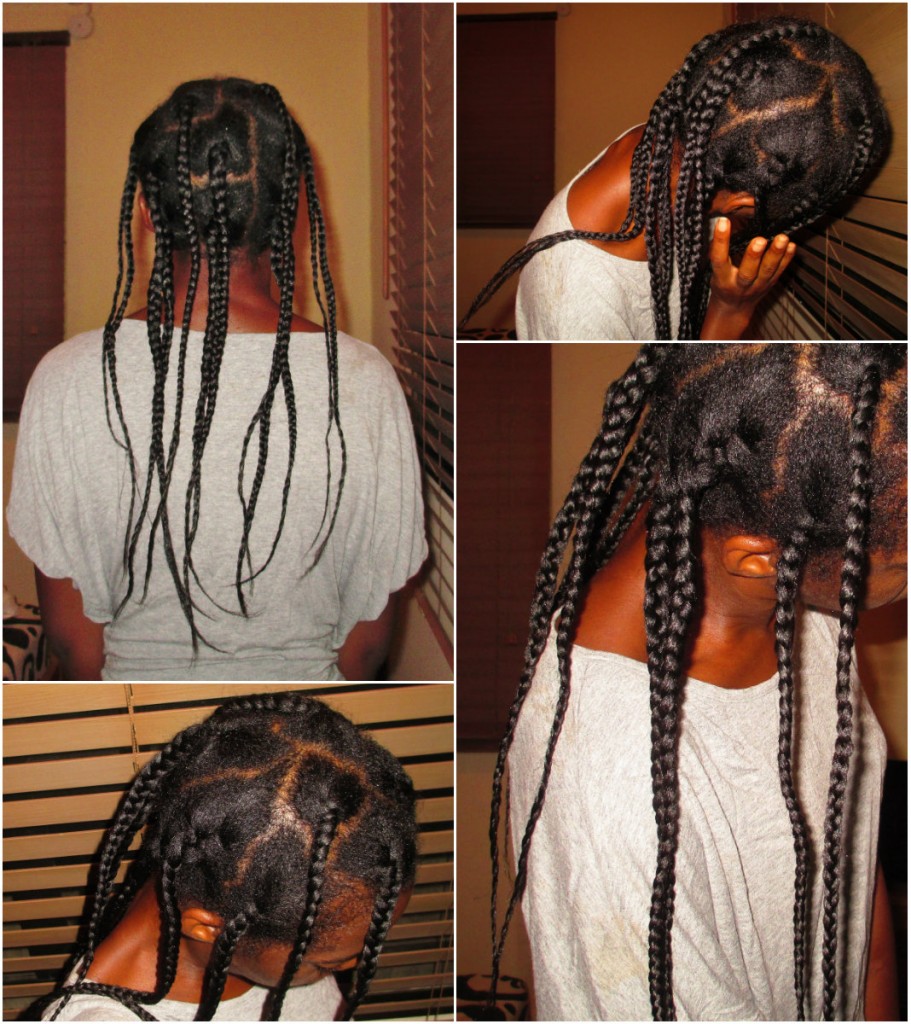 My hair put into single braids before being washed  
Hello ladies, I am such a naughty blogger.
I've been meaning to update the blog but I've been so busy that my head is spinning half the time.  My own hair has been under one of my Hair by Type 4 wigs because I knew I would be really busy and not have as much time to take care of it. I am also a little under the weather and now that I am forced to sit and actually rest, I finally have time to publish Part 3 of the hair care in weaves and braids series.
In this post, I will discuss how hair should be removed from extensions and how to cleanse your hair after extensions have been removed.  I hope the following tips will help you avoid unnecessary hair loss.
Please ensure you have read part 1 and 2 of the series.
REMOVAL OF EXTENTIONS & AFTERCARE
1) Detangle as you unravel.  When undoing the cornrows underneath the weave or the plaits of your braids, detangle as you go along.
If you wait till you finish undoing the weave tracks or braids before you detangle, it is likely that you will become overwhelmed and not detangle properly and you may also fail to remove the shed hairs.
2) Do not use combs to rip out knots.  Use your fingers to loosen and separate any knots or matted hair you come across.   You can then follow gently with the use of a wide tooth comb.
3) A little olive oil can be applied to the knots or matted hair to assist with detangling.  Olive oil is known for helping to remove shed hairs.  Alternatively if you own a detangling spray, a little can be sprayed on the knots and matted hair.
4) Wash and deep condition (in single plaits)
We are often advised to wash and deep condition our hair after extensions have been taken out to remove dirt, build-up and to restore moisture and strength to our hair fibres.  However this can result in matted hair.  This is because when water is poured on hair that has just been removed from extensions, the shed hairs slip and often tangles with other hair strands.
However washing your hair in single braids (calabar) restricts the movement of the shed hairs  and prevents it  from tangling or forming locs.
The process is simple
Unravel and detangle each braid or weave track.
After the whole head has been detangled, plait your hair in 6 or more single plaits (see the picture above of my hair in braids)
Wash and deep condition your hair with the single braids in.
Rinse thoroughly
Undo each braid, apply your leave in products and detangle.
Air dry or blow dry on a cool setting and then moisturise and seal.
This may seem long winded but it works very well in preventing matting.
I hope you find this post useful.  Now I am going to do two things, take my next dose of pain killers and call up a few friends before they think I am missing.
I have a HUGE announcement coming really soon……I've been up to something….its hair related and is one of the main reasons why I've been so busy (and tired) lately.
I really can't wait to share it all with you.
x
Lade
Learn | Change | Grow