Hello ladies, how are you?  Good I hope.  I've been a little behind on blog posts and my emails, due to life being really busy and some network issues.  Thanks for sticking around.
As promised, in this blog post I will explain what texlaxing is and the pros and cons of texlaxing.  This is going to be a two part post.
I never explained why I have blog posts in two parts.  If a blog post goes over a thousand words I decide to split it into parts.  I know that the longer a post the less inclined people are to read it.  So I try to keep the posts short(ish) and sweet. So let's get to it.
WHAT IS TEXLAXING
Texlaxing simply means deliberately under processing your hair when getting it relaxed.  Ladies who texlax their hair don't allow it to become completely straight during the relaxing process.
Texlaxing is often confused with texturizing.  A texturizer is designed to loosen the curl pattern of our hair, it is not designed to straighten it.  Relaxers (used for texlaxing) on the other hand are designed to straighten our hair.
BENEFITS OF TEXLAXING



1)HEALTHIER HAIR
Now what I am about to say might not be what some ladies want to hear but I would like to keep it honest with you.  Natural hair that is well taken care of is healthier than relaxed hair.  Texlaxed hair that is well taken care of is healthier than relaxed hair.  Relaxed hair can still be healthy if it is well taken care of.   As I have mentioned on many blog posts, relaxers and chemical hair dyes work by destroying some of our hair fibres internal protein bonds.
The further away we stray from our hairs natural texture and colour the more damage we cause.  So basically the straighter we allow our hair to become during relaxing, the more damage is done to our hair fibres to achieve that straightness.  As an example a lady who lets her hair become 75% straight will have healthier hair than one who lets her hair become 100% straight (if both of them are on a hair journey that is).
2) BETTER ELASTICITY :LESS BREAKAGE
Because a bit of the natural texture is left in texlaxed hair and it has suffered less internal  and external damage, texlaxed hair tends to retain more of its natural elasticity and bounce.  The more elasticity our hair has the better it is at resisting breakage.
3) THICKER HAIR
This is the MAIN reason why I switched to texlaxing.  I like how thick it made my hair look.
Because texlaxed hair has some curl/kink left in the hair, it looks thicker than it would if the hair was allowed to become completely straightened.
4) BETTER MOISTURE RETENTION
Hair fibres with good protein bond retain moisture better than hair with little or no protein bonds.  Ladies with texlaxed hair have not broken all the protein bonds in their hair and therefore retain moisture better.  Remember hair that is well moisturised faces less risk on breakage.
CONS OF TEXLAXING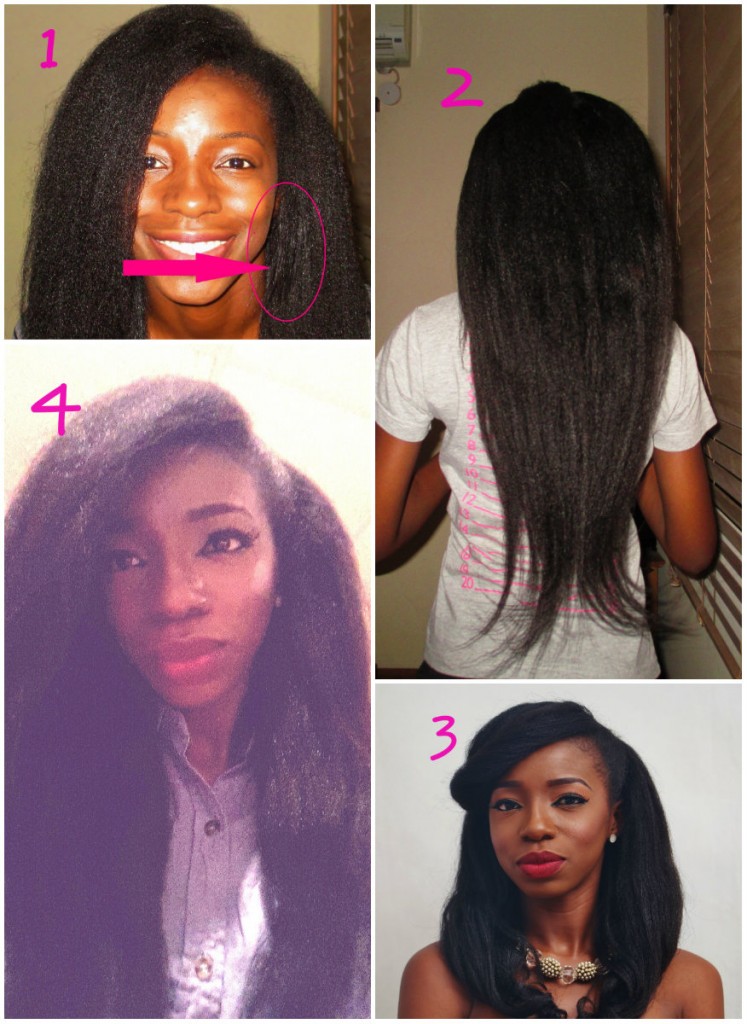 1) UNEVEN TEXTURES
A very common problem ladies with texlaxed hair face is uneven textures.  This simply means that some areas of your hair may be straighter than other areas and some parts may retain more of your natural curls. Please see the circled area of picture 1 in the collage above.
This inconsistency in textures occurs due to many reasons, for example, some parts of our hair fibres may have tighter curls than parts  so this unevenness continues with our texlaxed hair.
Another reason is that the texlaxed texture we achieve in one relaxing session may be different from what we achieve the next time we relax.  It takes a few sessions of texlaxing to learn how to achieve the degree of straightness that you want and then you have to recreate it every time you relax so that you have an even texlaxed texture.
The uneven texture actually isn't that obvious when your hair is dry, personally I don't think it looks too bad.  Unfortunately however, some ladies might find it a bit difficult to manage the different textures in their hair and suffer some breakage as a result of it.   Imagine a lady who is transitioning to texlaxed hair and is on a stretch, she will have her natural new growth, her texlaxed hair and her relaxed ends.  It is certainly a bit of a challenge to keep three textures happy however I assure you it can be done but it is a little time consuming.
Please read the following blog posts as they contain tips that help manage uneven textures: hair care in sections and the art of stretching part 2.
2) POTENTIAL FRIZZ
The look of texlaxed hair isn't to every ones liking.  I personally love the look of texlaxed hair.  To me it looks like natural hair that has been blow dried.   However some ladies are not so keen on this look and prefer poker straight silky looking hair and that is alright too.
Ladies with texlaxed hair can easily achieved the poker straight look by blow drying, roller setting or flat ironing their hair.
I must say that texlaxed hair that isn't well moisturised can look frizzy.  Ladies who texlaxed shouldn't skip moisturising and sealing their hair.
3) THINNER LOOKING ENDS
As I mentioned above, ladies who texlax their hair tend to have fuller looking hair than what it would be if they relaxed bone straight. When ladies are transitioning from relaxed to texlaxed, their previously relaxed hair usually looks thinner than the texlaxed parts.  It takes a while to get used to this.  Over the years you can gradually trim of the relaxed bits.
The difference in textures is more apparent when your hair is wet.
A second reason for thinner looking ends that I have just  discovered is for ladies like myself have finished the transition and are fully texlaxed.  As I mentioned above we have uneven textures and some parts of our hair ends up being straighter than we intended ( this usually occurs when we are still new to texlaxing).  As our hair grows and gets trimmed those straighter thinner looking parts eventually become the ends of our hair.  Currently I think the ends my hair is hair that was accidentally relaxed bone straight and now looks thin in comparison to the rest of my hair.  This can be seen in picture 2 of the collage above (My hair had been cross wrapped the night before and that's why my ends are bent in the picture).
4) SHRINKAGE
This is my favourite con about texlaxed hair.  By retaining some of our curls/kinks we also retain some attributes of natural hair.  Natural ladies hair shrinks and so does that of texlaxed ladies. Obviously the degree of shrinkage is not as dramatic as natural haired ladies
The more curl/kink you leave in your hair the more it is going to shrink.  My hair shrinks from waist length to between BSL and MBL especially on wash days.  As the week goes by it stretches out bit by bit. I am used to the yoyo effect my hair has.  Personally, I really don't mind, as a matter of fact I kinda like it.  It keeps things interesting.
As an example, picture 3 and 4 of the collage above were taken on the same day yet the length of my hair is quite different.
If you think you might want to transition to texlaxed, please know that you are not going to see your true length everyday unless you blow dry, roller set or flat iron.  As you know using heat too often should be avoided, so if you want see your full length more regularly you may be better of relaxing bone straight and having a solid hair care regimen.
Well that is it for this post.   I hope you don't think the cons outweigh the benefits of texlaxing.
In part two I will talk about methods of texlaxing, how I transitioned to texlaxed and my current methods for texlaxing my hair.
I hope you've found this blog post to be a worthwhile and will come back soon for part two.
Before I sign off, I want to say a genuine thank you to all the lovely people I've met recently who tell me they love Hairducation.  I have also received some emails from ladies telling me to keep up with the good work.  I just want to say thank you and that your kind words do really keep me motivated.  Blogging takes more time than I thought it would but the support I've gotten from you all makes it more than worthwhile.
Happy hair journey ladies and happy Palm Sunday.
x
Lade
Learn | Change | Grow