Hello ladies
How are you? Happy and well I hope.
Washing in braids is not an essential technique on a hair journey but it is one that I began using when my hair reached BSL. Before that period, I could wash my hair in it's loose state without experiencing too much tangling.
At BSL and with hair that was becoming more and more texlaxed, I found myself with major tangles every time washed my hair loose. I went online and saw that some natural haired ladies wash their hair in braids. I looked up different ways in which this was done and soon found a method that would work for me.
I get asked very often how I wash my hair in braids and so I decided to write a short(ish) blog post which I hope clears it up for anyone who is interested.
How I wash My Hair In Braids
I detangle my hair and apply a little coconut or olive oil to help remove knots and tangles.
I put my hair in 12 -16 box braids. Note that the box braids start at the scalp and are firm but not excessively tight.
To prevent my hair from unravelling during the wash process, I two strand twist the ends of each braid. I find that when I finish each braid with a two strand twist, I am able to unravel it more easily after I have completed the wash and condition process. I hope the above makes sense.
I apply a little more coconut or olive oil to the box braids and cover with a plastic cap which I leave on for an hour or overnight.
I pour water over the box braids until they are well saturated. I apply shampoo and wash the box braids focusing on my scalp and the roots of each box braid.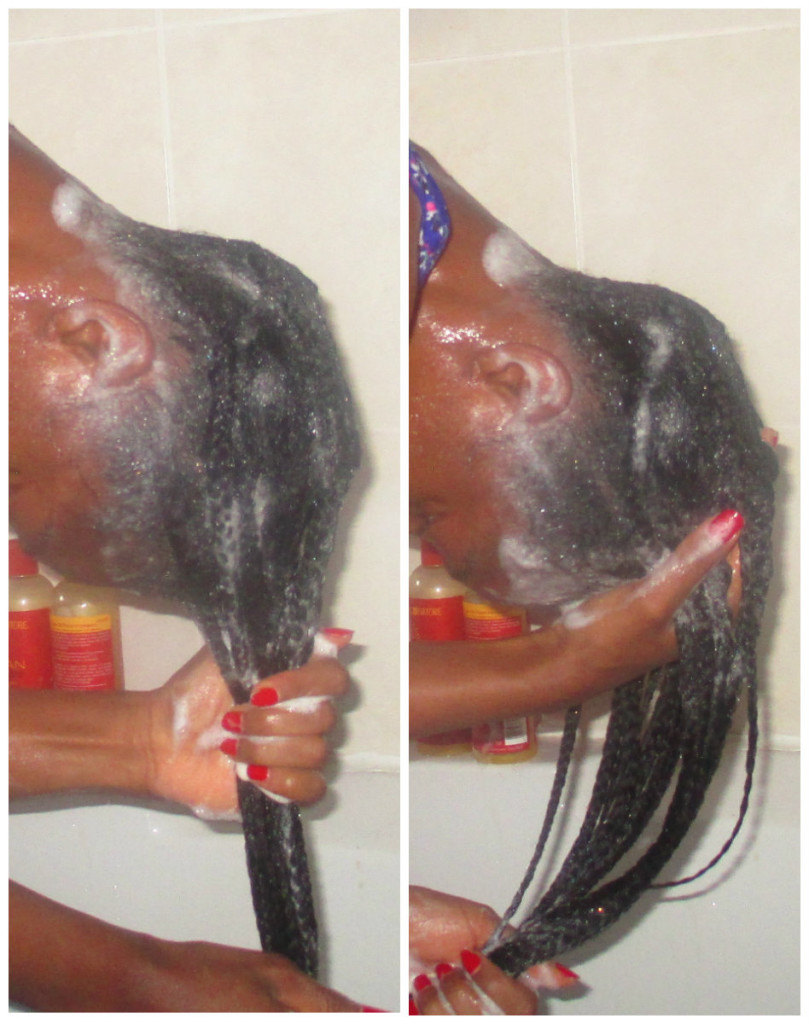 I DO NOT unravel each box braid.
I rinse thoroughly till I am certain all the shampoo and lather has been rinsed out.
 I remove any excess water and apply my deep conditioner. I DO NOT unravel each box braid. I simply apply the conditioner over the box braids.
I deep condition using my soft hood drier for 30 to 45 minutes.
I rinse out the conditioner very very very well until all the conditioner residue has been removed.
I wrap my hair in a t-shirt to absorb excess water. I unravel one box braid, finger detangle, apply my leave-ins and comb gently. I repeat this step with each braid until they have all been unravelled.
Unfortunately I didn't take a picture of each stage but I do hope the ones above are of some use.
Additional Tips for Washing in Braids
Size Matters
I have been told by some ladies that washing in braids caused their hair to matt.
I believe that if the braids are too big i e just 4, then your hair may matt at the base. When I wash my hair in 12+ box braids I get very little matting at the base which i can separate/remove very easily. Also if the braids are not firm enough especially at the base then there might also be some matting.
Its Not For Everyone
Also as I always say what works for me may not work for another lady. Do not feel as though you have to wash your hair in braids.  If your hair does not tangle when you wash it loose or is not very long then washing in braids or in sections is not something you need.
I hope you have this post helpful.
I spoke at the Naija Hair Can Grow Salon Day Out last weekend and will be sharing my experience and pictures from the event in my next blog post. It was such a blast….come back soon to read all about it
x
Lade
Learn | Change | Grow