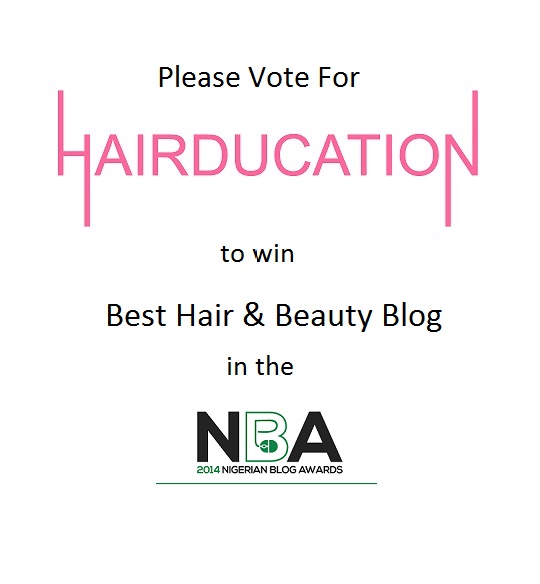 I was scrolling through my Twitter feed when I found out my blog Hairducation has been nominated for the 2014 Nigerian Blog Awards in the Hair & Beauty category!!!!!!!
I am so happy and honoured by this nomination.  Hairducation only went live in 2013 so to be nominated for the 2014 awards is only the grace of God.
I would absolutely love to win the award but I can't do it alone ladies, you can help Hairducation win by taking a few minutes to vote.
 How to Vote
Voting is completed in a few simple steps
1) Visit the voting page ( direct link to the page is provided below
2) Enter your name and your email address
3) Select Hairducation in the Best Beauty or Hair blog category
4) Scroll down to the end of the page and submit
5) You will receive a validation email from Nigerianblogawards@gmail.com. Please check your spam folders.
Click the link in the email in order to have your vote counted.

Voting closes on 6th April 2015
You don't have to be located in Nigeria to vote.

Please vote ladies and thank you in advance.
x
Lade
Learn | Change | Grow