THE GIVEAWAY IS NOW CLOSED
Hello ladies
This post should have been up on Tuesday but I am still going through a very busy period.  Not that I am complaining but I am sorry to have kept you waiting.
I am very happy to have the first giveaway on Hairducation.  I thought about what gift I could give a reader.   Naturally I wanted something that would be great for a hair journey.  I decided to give the gift of deep conditioning.  We all know how important deep conditioning is for keeping black hair soft and strong.
THE PRIZE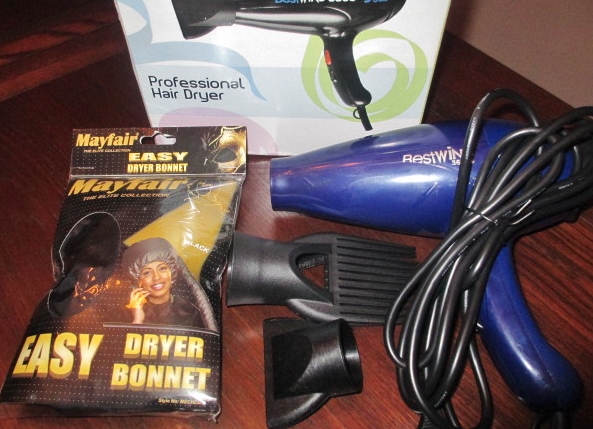 As I indicated in my last post, there are two items in the prize.  The first is a hair dryer bonnet.  This is plugged into the end of a hand dryer to create the same effect as hood dryer.  It can be used for deep conditioning and hot oil treatments.  It can also for roller sets.
This is how I have deep conditioned my hair throughout my hair journey.
As you may have already guessed, the second part of the gift is a hand held hair dryer.  I chose a 2 speed and 3 temperature setting hair dryer.  I was determined to find one that had a cool temperature option so that the winner can blow dry her hair with cool air.
HOW TO ENTER
For a chance to win the prize there are three little things you have to do
1)      Like Hairducation on Facebook ( scroll to the top of the blog, the facebook link button  is at the top left).
2)      Follow Hairducation on Twitter .
3)      Leave a comment on this post letting me know that you have  completed steps 1 and 2.
I will select a winner at random.  The giveaway is open now and will close on 15 March 2013.  the winner will be announced shortly after.
Feel free to ask your friends, sisters, cousins etc to take part for a chance to win.
Please note that due to logistics, this giveaway is only open to ladies in Nigeria.  Apologies to my international readers.   I will have another giveaway soon that will be open to everyone.
Best of luck ladies.
X
Lade
Learn | Change | Grow