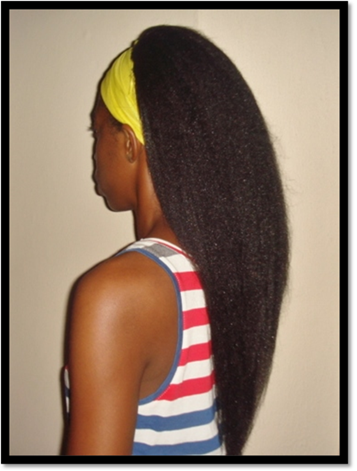 Air dried hair after leave-in conditioners had been applied.
BENEFITS OF USING LEAVE-IN CONDITIONERS
After cleansing and conditioning, using a leave-in conditioner further assists in improving the manageability of hair by making it smoother, more flexible and can also strengthen its structure.
A good leave-in conditioner should also give your hair slip which will make detangling easier.
WHEN SHOULD A LEAVE-IN CONDITIONER BE USED
A leave-in conditioner should be used after cleansing and conditioning the hair.  Some leave-in conditioners can also be used as daily moisturisers.
TYPES OF LEAVE-IN CONDITIONERS



Leave-in conditioners come in various forms; liquid sprays, lotions and creams.
If you have very thick and coarse hair a creamy leave-in will be suitable for your hair.  If you have fine hair then a light product like a lotion or leave-in spray will be appropriate.
Note that leave-in conditioners will either be protein based or moisturise based depending on the ingredients it contains.
I would advise that you own both a moisturising and a protein leave-in conditioner because your hair will need both at some point.
Please be aware that not all leave-in conditioners are suitable for daily use.
Examples of good quality leave-in conditioners:
A) Cantu Shea Butter Leave-In Conditioning Repair Cream (protein)
B) Aphogee Keratin and Green Restructurizer(Protein – with this product, I suggest that a very little quantity should be used and it is NOT suitable for daily use)
C) Elasta QP Feels Like Silk Leave-In H2 Conditioner (Moisture)
D) Luster's S-Curl No Drip Activator Moisturizer (Moisture)
E) Herbal Essences Beautiful Ends (Moisture –  called Long Term Relationship in the U.S)
PRACTICAL TIPS TO MAXIMISE THE BENEFITS OF LEAVE-IN CONDITIONERS
1) Before you apply a leave in conditioner, the  first thing to consider is whether you should  use a protein leave-in  or a moisturising leave-in based on what your hair needs at the time and how it feels.
– If your hair feels too soft or feels weak you should use a protein leave in conditioner for strength.
– If your hair feels rough or too stiff then you should use a moisturising conditioner to soften and smoothen it.
– If you are not sure of what your hair needs then it is better to cautious and use a moisturising leave-in because black hair tends to lean towards being dry.
2) It is okay if you use a little bit of both your moisturising and protein leave-in conditioner after a wash.
3) Squeeze out excess water before applying the leave-in conditioner.
4) Apply the leave-in conditioner to hair whilst it is damp, don't let it get completely dry before you apply your leave in.
5) Apply the leave-in conditioner in sections to ensure even coverage from root to tip.
6) Focus on the ends of your hair.  The leave-in conditioner should be applied to your hair from root to tip however ensure that the tips or ends get a good share of the product.  The ends are the oldest and weakest part of the hair and needs the support of the product the most.
7) Do not apply too much product as this can weigh down the hair. It is better to use too little and then add more products later if necessary.
8) As mentioned above, some leave-in conditioners can also be used as daily moisturisers.
I hope you have found the above guide helpful.
You can now move on to the Moisturising and Sealing guide.
Learn | Change | Grow