What Is Moisturising And Sealing?

Moisturising and sealing is a two stage process which helps to keep hair hydrated.  Firstly, a moisturising cream, lotion or liquid spray is applied to the entire length of the hair focusing on the ends (the last 2 to 3 inches). A small amount of oil is then applied to the hair, again ensuring that the ends are well covered.  The oil is applied over the moisturiser to lock or seal the moisture into the hair fibres.  This keeps it hydrated for longer.
How Does Moisturising and Sealing Help Fight Breakage
Although using conditioners and leave-in products will provide hair with strength and elasticity, the moisture levels of our hair needs to be replenished on a daily basis because:
1) Moisturising our hair once a week alone will not adequately meet the hydration needs of our hair which is prone to being dry.
2) Due to the high temperature of our climate, evaporation of the moisture in our hair occurs very quickly.
3) Our hair fibres are damaged by general wear and tear, use of heat and by chemical processes such as relaxers and colour treatments.  Damaged hair fibre tends to lose moisture quickly.
Black hair therefore has to be moisturised several times during the week to keep it hydrated, feeling smooth, looking healthy and able to resist breakage.
How Often Should Hair Be Moisturised and Sealed
If you are just starting a hair journey, it is likely that your hair will need to be moisturised and sealed twice a day, in the morning and at night.
If you are unable to moisturise and seal your hair twice a day, try to do it at least once a day, preferably at night.
As you progress on your hair journey, you may find that you only need to moisturise and seal once a day or once every two days.
Types Of Moisturisers

It is important that you use a daily moisturiser which is a true moisturiser rather than a product which is full of synthetic oils such as petrolatum, mineral oil and lanolin oil.
These oils have no real benefit for our hair and can actually block out moisture.
Water is the best moisturiser and a good quality moisturiser will have water/aqua listed as the first ingredient.
Examples of good quality moisturising leave conditioners include:
A) Luster's S-curl No Drip Activator Moisturizer
B) Herbal Essences Beautiful Ends (this is called Long Term Relationship Split End Protector in the U.S)
C) Cantu Shea Butter Leave-In Conditioning Repair Cream (Protein)
D) Organic Root Stimulator Olive Oil Moisturizing Lotion
E) Elasta  QP Olive Oil and Mango butter (Protein)
Types of Oils
When selecting an oil to be used as a sealant, use an extra virgin cold pressed oil.  Oils that are extra virgin and cold pressed have been obtained by means which ensure that all the beneficial properties they contain remain intact.
Do not confuse natural oils with synthetic hair greases.  Some hair greases are labelled as coconut oil or Shea butter, etc, however when you inspect the ingredients, the product may contain mainly petrolatum and mineral oil with very little of the actual coconut oil or Shea butter in it.  I would therefore suggest using the pure and natural versions of such oils.
Examples of oils which popularly used as sealants include:
Extra virgin cold pressed olive oil.
Extra virgin cold pressed coconut oil.
Castor oil (this oil is very thick and heavy and most users mix it with a lighter oil like olive oil, do not use this as sealant if you have fine or thin hair)
Almond oil
Jojoba oil ( this oil is very light and can be used as a sealant by ladies with fine/thin hair)
Shea butter
Practical Tips To Maximise The Benefits of Moisturising and Sealing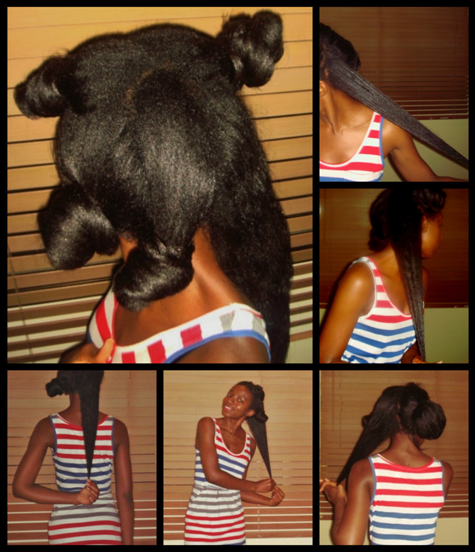 Moisturising and sealing your hair in sections helps to ensure even product coverage
1) Do it in sections- To ensure better product coverage, divide your hair into four or more sections and apply the products to each of the sections.
2) Moisturise before sealing – Always apply the moisturiser to the hair before applying the oil over it to lock in the moisture.  And no,….mixing the two together will not achieve the same result. If you apply the oil before the moisturiser you will lock out moisture, i.e. prevent the moisture from being absorbed.
3) Focus on applying the product to the ends/tips of your hair as this tends to get dry quickly.  It is the oldest and most fragile part of our hair, it loses moisture rapidly and is where breakage is likely to occur.
4) Do not be too heavy handed with your products, a little goes a long way.  Too much product will make your hair feel weighed down and it will look clumpy and greasy.
5) Use your hands to smooth or press the product into your hair in a downward motion.  The directions provided on a lot of products suggest that you comb your hair for even distribution of the moisturiser. This is however not necessary and using your fingers to press the product into your hair will suffice.
I hope you have found this guide helpful.
You can now read the Protective Styling guide.
Learn | Change | Grow