Hello Ladies,
Sorry for the mini hiatus. I am back with this quick but really educative post about air drying. Air drying my hair on wash days used to be a taboo to me before my hair journey. After I started my hair journey however it is something I still do and highly recommend if healthy hair is goal. In this post I will explain what air drying is, its benefits, some of the cons of air drying and techniques and tips for air drying.
What is Air Drying
Air drying simply means that you allow your hair to dry on its own after deep conditioning or co-washing. Instead of blow drying or roller setting, you simply let good old air dry your hair.
Why Is Air Drying Good for Hair
Direct heat from blow driers tend to dry hair very quickly and aggressively and this can damage the hairs outer layer. Over time and regular blow drying with heat can cause this out layer to chip off gradually leading to damaged and weaker hair. Air dry will prevent all the above and with time can lead to stronger, healthier and thicker looking hair especially at the ends.
Air dying also allows your hair to retain more of its internal moisture which will help it retain its elasticity and softness. Blow drying with heat on the other hand will deplete your hairs internal moisture and cause hair to become drier and more brittle.
Cons of Air Drying
Time- allowing your hair to dry on its own will certainly take longer than when you use heat from a blow dryer or hood dryer. This sucks if you are in a rush…unless you don't mind going out with damp hair.
Sleekness- air that is air dried is usually not as sleek and shiny as hair that was blow dried or roller set. Some ladies actually find that their air dried hair can look frizzy and poufy but this can be avoided if you follow the tips provided below.
Air drying can lead to tangled and rough hair if proper techniques are not followed.  Again, please see the tips provided below.
How to Air dry – Tips and Techniques for a Smoother Air Dry
After rinsing out your deep conditioner or co-wash conditioner, wrap hair in a cotton tee-shirt for a few minutes to absorb water.
Detangle your hair gently in sections and apply your leave in conditioner(s), ensure your ends get their fair share of the products. You can smoothen your hair by combing it gently in sections with a medium or small sized comb ( do not use a fine tooth comb)
A few drops of your hair sealant ( eg,olive,coconut, jojoba, almond, grapeseed oil,) to your palms and smooth it over your hair especially the ends. The leave in products and oil will help to keep your hair looking smooth and feeling soft.
Keep your hair in confined or organised. If your hair is natural simply put it in large or medium sized twists or box braids. If your hair is relaxed you can put it in a simple bun or ponytail.Alternatively you can do what is known as the scarf method where you tie a satin scarf around the perimeter of your hair after combing it backwards.   This will get your edges smooth flattened. Keeping your hair organised and confined whilst it is air drying will produce a smoother or more tamed result.
Another method I sometimes use to air dry my hair is the banded base method ( see the picture below) which i have explained thoroughly in a previous post which you can find by clicking here.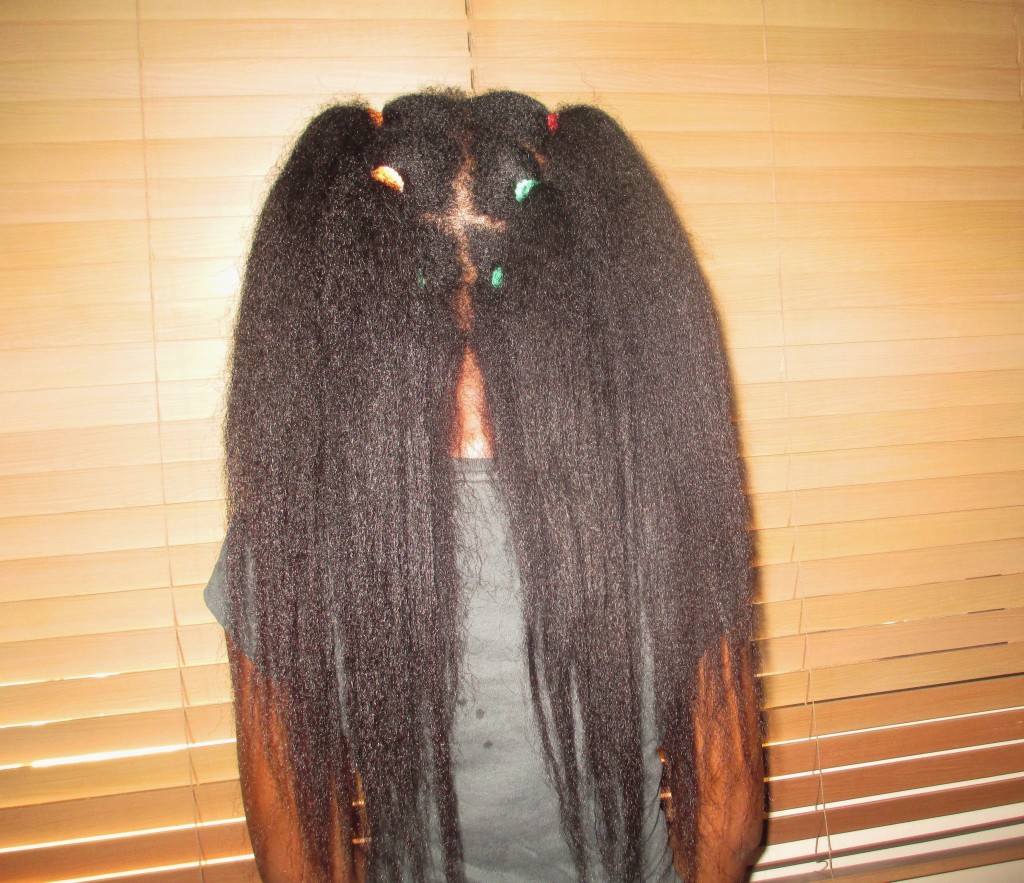 Air drying is a major contributor to the success of my hair journey and I hope this post has encouraged you to try it or stick with it. Is this how you air dry? If you have a different techniques please do share!
My next couple of posts will be a continuation of my FAQ and Bun of the Month series. See you soon.
X
Lade Learn | Change | Grow