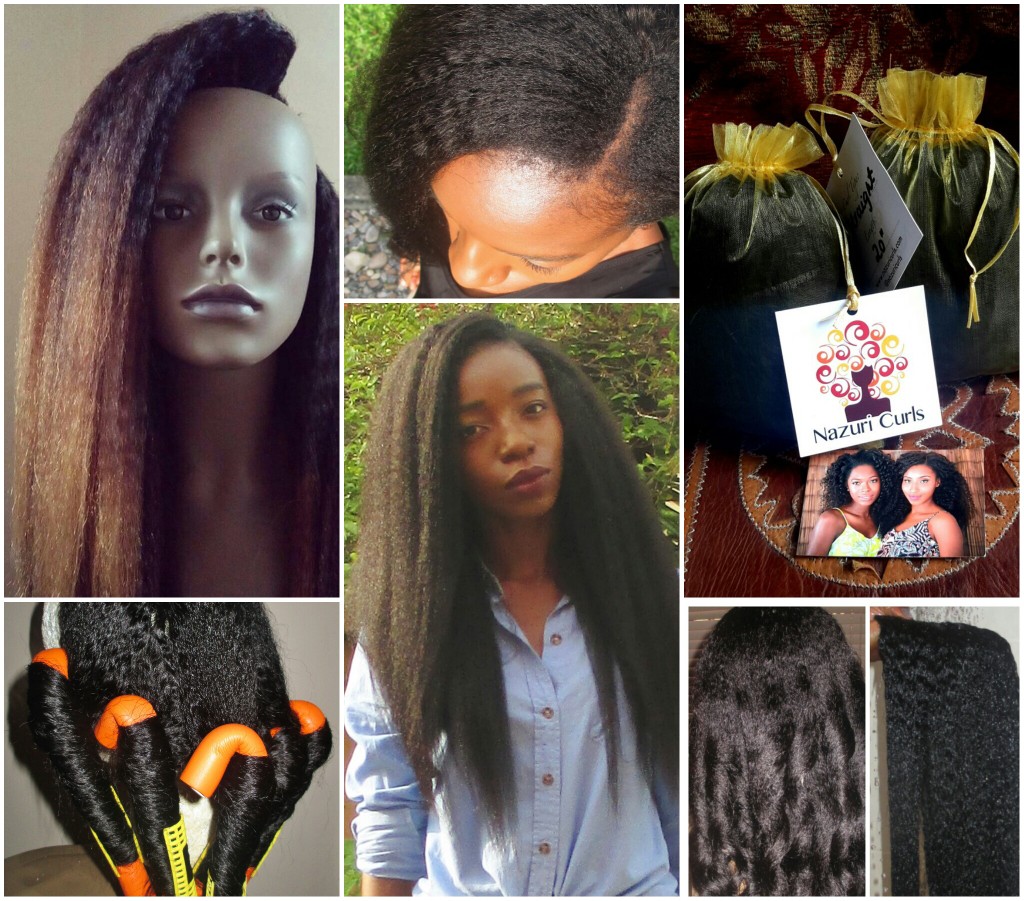 I have spent six months with my wig made with the Nazuri Curls Kinky Straight and it is time for my final verdict on this hair weft. I am going to make it a quick one and delve right into the review.
Texture and Blending
This hair blends with relaxed hair or well stretched out natural hair.
In my opinion it blends most perfectly with texlaxed hair. My hair is texlaxed and so many times even my mother wasn't sure if I was wearing the wig or my own hair. That is how much the texture looks like afro textured hair. There are some parts of the weft which look more like crimped or has a braid-out like pattern but this was certainly not a problem.
Weight
You get a lot of volume for very little weight. As a wig maker I have made wigs for ladies who use as many as 5 or 6 bundles of wefts to create volume and this usually means the wig is quite heavy. (I always advise them not to do this but……) With the wig I made myself using the Nazuri hair, I used just two bundles and it is so full/thick/dense looking but is super light weight at the same time.
Longevity
I have worn the wig regularly over the last 6 months, I have washed and conditioned it a few times with ease and minimal shedding. The hair is still in very good condition and I can see myself wearing it for at least another year.
Styling
I have styled the hair using curling wands and by setting it on bendy stick after wetting it lightly with water.
When I used the curling wand the curls were beautiful but dropped very quickly to my disappointment.   When I wet the hair and set it on bendy rollers however the curls formed lasted all day….actually it lasted for almost a week. The curls had dropped by the end of course and I only finger detangled a little that week to avoid messing with the curls but it certainly lasted all week to my delight.
Colour
I mentioned in one of my posts that my sister dyed her own wig and the results were really great. She didn't like the shade she used initially and dyed some parts of it a second time. Not only did the wefts take the colour really well, the hair is still in good condition despite the two colour jobs. Yes it was s little dry for a while but after a few sessions of deep conditioning it is lush again.
Maintenance
The hair is quite easy to take care off. All I've had to do is detangle gently after each wear and spray/mist it once a week with water.
Final Verdict
Everywhere I wore this wig, whether it was a fancy restaurant or in Balogun market, every single time I wore this wig I would get stopped, pulled aside or sometimes grabbed by ladies and sometimes men (who I presume are hair stylists) asking if it was my real hair quickly followed by "oh it's not your hair, please what hair is this?". I love this wig and apparently so does everyone else. I will certainly be re-purchasing the hair wefts in the future.
Along with the bun of the month series, I will be introducing another series in which I will answer the most frequently asked questions I get about my hair. Come back soon for the first of my FAQ series.
Happy hair journey
X
Lade
Learn | Change | Grow